Everyone in the summer is going to want to go on road trips to the beach; travel to a far away city or country; or go exploring, hoping for an adventure. In this warm beautiful weather, who wouldn't want to get out of the house for once? But a question that might mind-boggle you is "What do I bring?"
These 8 beauty essentials/items will help you pack exactly what you need to enjoy your journey.
---
1.

Longchamp Tote Bag
These tote bags are PERFECT for carry-ons, super durable and can be easily folded and stored away when not being used. You can purchase this tote bag here.
---
2.

Worlds Best™ Memory Foam Neck Pillow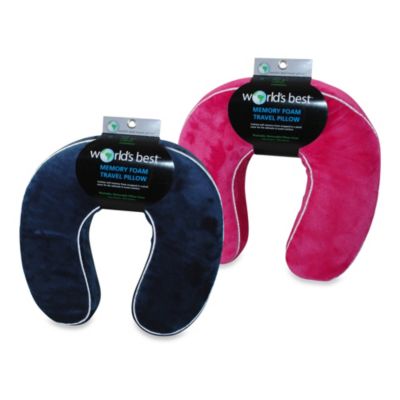 This neck pillow. When you're on an airplane or a road trip, resting/napping has never been so comfortable with this pillow supporting you! You can go purchase this at Bed Bath & Beyond.
---
3.

Nap™ Plush Eye Mask
If you need to soothe your tired eyes on a long flight or trip, this eye mask is sure to help. It blocks out the right amount of light so you can relax and sleep comfortably. Buy this at Brookstone.
---
4.

NOOK or a Good Old-Fashioned Book
Diving into a good book is the best way to entertain yourself and is better than playing games on your phone! The NOOK is a device that can hold hundreds of digital books to read and that can come in handy if you're a fast reader! You can purchase the NOOK and many other books to entertain you at Barnes and Noble.
---
5.

EOS Skin Care
The Evolution of Smooth products have always been a favourite of mine and I use them daily! My two personal favourites (pictured above) are the Sweet Mint lip balm and Berry Blossom hand lotion. They're compact so it's easy to bring them anywhere you go. Buy them both at the Eos Official Site.
---
6.

Foundation and Mascara
After an extremely long plane trip or car ride, your face starts to look more tired. But after using a little bit of natural foundation and mascara you'll be freshened up and ready to go in no time! I've been using the Fit Me! Maybelline foundation for a while now and I'm loving it! It's oil-free, doesn't clog pores, and it gives you a beautiful natural skin look. And you don't have to buy high-end mascara for you to get the best lashes; sometimes drugstore mascara is the best option for travelling! I highly recommend Maybelline Lash Sensational mascara; it gives you volume and it can be found at a local drugstore for $6.99! Buy the Fit Me! foundation here.
---
7.

Moisturizing Sunscreen
If you're going to be outdoors a lot when you travel, sunscreen is an essential to protect your skin. If you have pale skin like me, this probably isn't even an option for you; unless, you want to get burnt! Banana Boat® is a really good brand for sunscreen and is reliable when it comes to shielding your skin from the sun. The Protect & Hydrate™ sunscreen provides moisture all day and gives your skin a healthy glow. Purchase this product here.
---
8.

Aviator Sunglasses
Sun, sun, sun. Aviators are a fashionable choice to shield your eyes from the sun and they're always in style! Ray-Bans are a bit pricy; however, there are many different Aviators out there that are just as good! Purchase some Ray-Bans here.
---
What are your summer essentials? What are your favourite products from the list? Tell me in the comments below! Have a safe trip!
XO